Do you have an Instagram account based in India and want to set your shop on Instagram ?Well, you have landed on the right page to know everything about Instagram shopping and shoppable tags in India.
What comes under Instagram Shop?
Instagram shop gives an amazing opportunity to setup storefront for retailers and business owners who are willing to increase sales of their products. Instagram shopping has following features:
Shoppable tags
An image of the product
A description of the product
Product Cost
A link that takes them directly to your website, where they can purchase the product
Related products
Image Credit: Myntra
In order to sell on Instagram shop as a business, your Facebook account and Page or your Instagram professional page must meet these requirements. (As stated by Instagram)
Currently in India, only managed clients are eligible to setup an Instagram shop. If your brand is not a managed client, you will not be able to get approval from Instagram.
Not eligible for Instagram shopping. You will receive an error from Instagram that, at this time your Instagram professional account must be in a market where Instagram shopping is available.
What is a managed client on Instagram?
Partners or managed clients are businesses whose accounts are being managed or being given access to some features of Instagram. There is no way to reach Instagram to become managed clients, it depends on a few factors like popularity, availability, features, etc. When you become eligible, Facebook representatives reach to your business and grand access to those features. 
Being in a Managed partner country means you are ineligible for Instagram shopping unless Facebook assigns a manager to you. 
Currently (As on July 2020) India, Hong Kong, Indonesia, Philippines, Taiwan, Thailand, Malaysia,Chile, Colombia, Guadeloupe, Egypt, Israel, Turkey, Algeria, United Arab Emirates, Lebanon, Saudi Arabia are managed clients and users residing in these countries currently have no option to set up their Instagram shop.
There are many Indian Instagram accounts like Myntra, Nyka, Faballey, and many more, who have been given access to set up Instagram shops.
Instagram payment option is still hasn't rolled out in India and users have to go to seller's website, enter their address, and make payment through the seller's payment gateway. 
What does Facebook representative say regarding Instagram shopping in India?
We have contacted Facebook support and asked about the rollout of Instagram shops in India, below is the screenshot of the conversation that we had with one of the Facebook's representative.
Its clear that Instagram is rolling out this feature in India gradually and within a few months it will be widely accessible by all the users who will be willing to set up Instagram shops in India.
Black Hat techniques for getting Instagram Shop approval
You may find many gigs on freelancer websites like Fiverr & Freelancer, about getting your Instagram account approval even if you are not in eligible countries. Try avoiding them.There are many techniques to get approval for Instagram shops in India by using proxies of countries where Instagram shops are available, by using VPN, by asking a user residing in eligible countries to login and get approval.
We strictly suggest you to avoid going through these tactics. 
As you may lose the ability to tag products if Instagram finds out. It may also lead to suspension of your Instagram account forever.It's better to wait until Instagram shop feature rolls out completely in India.
How to get prepared for Instagram Shopping
One fine day you will wake up and see that Instagram shopping is rolled out to users living in India. I know that we all will rush and would definitely want to set up our shop then.
Why not setup for Instagram Shop now?
To start, you can't use an Instagram Shop to sell services, only 
eligible physical goods
. Plus, your business must comply with Instagram's
commerce policies
.
Steps to Set Up Your Instagram Shop
Step 1: Add your product catalog on Facebook Shop
For this, you need to go to Facebook
business manager.
By clicking on 3 lines on top-left, you need to select "Catalog Manager"Now here you have to create a catalog for your store, select "E-Commerce" as shown in screenshot below.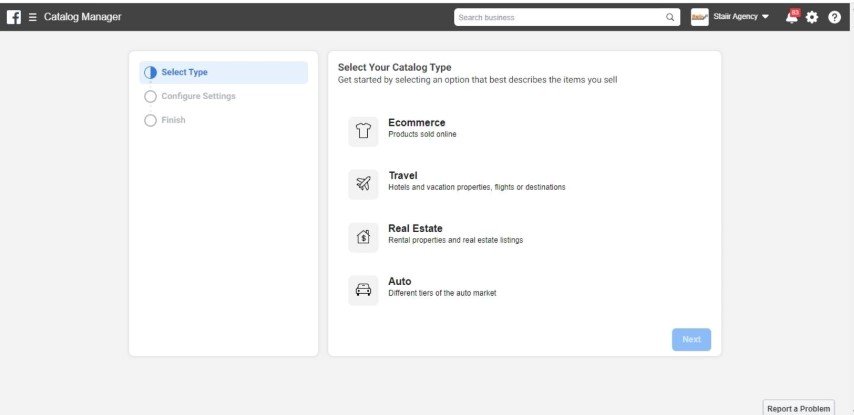 Please note that the Instagram shop takes data from your Facebook catalog. So whichever items you will upload here, will be synced with Instagram shop.Now there are many ays to upload products on Facebook Catalog
Adding products, descriptions, and prices manually on Facebook business manager.
Syncing your Woocommerce store on WordPress website to Facebook catalog
Syncing your Shopify store to Facebook catalog
So if you have a website, ask your developer to link your website store with Facebook business manager. So that all the products can display on facebook catalog.We can also help you in order to integrate and sync your website with Facebook Catalog,
contact us
today to get it done.
Step 2:

Wait for Your Account to Be Approved
Of course, currently if you are residing in India or any other countries which is not eligible for Instagram shop, your shop will not be approved.But below are the few pre-requisite steps that you can take now.Make sure that you have a professional Instagram Account.Link your professional instagram account to your facebook page.If there is anything missed out in products on catalog like description, price, product name etc, try to fill that up.All done? AwesomeNow, wait for Instagram to roll out complete instagram shop feature in India and once it happens, Instagram will automatically review your account before allowing you to create an Instagram Shop. The review process takes time and once it will be approved, you will be notified by Instagram.

Step 3: Account Approved?
Once you receive approval confirmed notification, you have to select the facebook shop hich has to be connected to your instagram profile.
Settings > Business Settings > Shopping
Thats all, Your Instagram shop will be setup, and you can begin tagging products on posts and stories.
Get notified about Instagram Shop rollout in India