Why is Instagram TV so important for you
Marketing is about reaching consumers to invoke a change in their behavior, giving them a call to action. The only way to truly make that shift in perception is to be where people are engaging and spending time.
Introducing IGTV! Let's walk through the details:
IGTV is an extension of the Instagram app, but you can also download its stand-alone app.
You can navigate content via the 'For You' and 'Following', 'Popular', and 'Continue Watching' settings.
IGTV encourages simple, high-quality content. It's not made for live streaming.
Videos have to be uploaded. They're full-screen and vertical.
Only verified accounts and big accounts can record up to 60 minutes. For now, most people have a limit of 10 minutes.
Users can like or comment on videos or send videos to friends in Direct Messaging.
Videos on IGTV can also be uploaded to Facebook Watch.
No advertising options are available yet, but Instagram says future changes might make this possible.
Marketing is about reaching consumers to invoke a change in their behavior, giving them a call to action. The only way to truly make that shift in perception is to be where people are engaging and spending time. So why is Instagram so important for marketers?
A recent study by Forrester Research found that Instagram users were 58 times more likely to like, comment, or share a brand's post than Facebook users and 120 times more likely than Twitter users. All data indicates that users are moving away from Twitter and Facebook and shifting their time to Instagram. This absolutely proves that Instagram is the best social and mobile platform for brands to reach audiences that are willing to engage. If you're not marketing on Instagram, you're missing out.
WHAT DOES IGTV MEAN FOR MARKETERS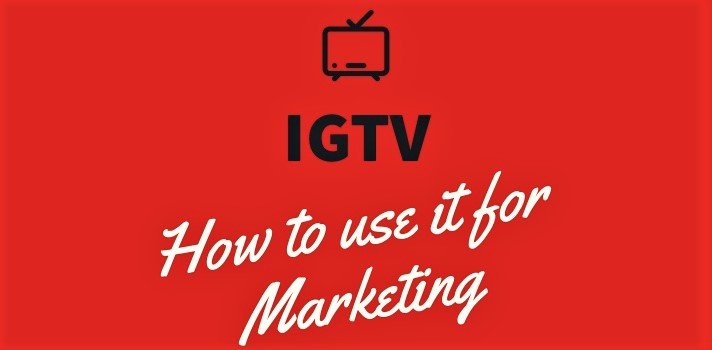 IGTV presents another opportunity for brands to expand their audiences and deepen relationships with current followers. Here are three ways marketers can optimize their long-form vertical video strategy for IGTV:
1) Excite from the start
You only have a few seconds to captivate an audience. With that in mind, start your video off with a bang. You can add an engaging, branded introduction to your video content. This way, users will know that they're going to watch something that'll pique their interest.
Make sure to put in the effort so that users don't swipe next.
2)  Craft polished content
Watch the videos from creators who align with your brand's look and feel. They know how to produce vertical video using tools like Final Cut Pro and iMovie. They've been doing this for years and know which video content converts.
I'd say the best place to start is still Snapchat and Instagram Stories. Once you've cut your teeth there, move on to using all those amazing apps available on iOS and Android devices to start filming and editing for IGTV." . Take advantage by simply uploading your existing library of beautifully produced videos that can now find a new audience.
No one can predict what will happen next with social media. But by following trends in video creation and testing out what works for your brand/Profile, you can stay ahead of your competition and retain your audience's attention and loyalty.
3) Influencers are key:
The most powerful marketing comes from friends, family, someone you follow, or someone you trust–we call these people influencers. To reach the ideal audiences for your brand you must connect with and utilize these influencers.
Influencers have crafted and honed their content to grow the following they have. Given the proper guidelines, they can create content for a product or idea that will resonate with your audience and will have a lasting impression.
BUY INSTAGRAM IGTV TV VIEWS
Buying IGTV Views has the potential to instantly increase your profile visibility and social proof, helping you gain and retain more organic traffic. Optimize can help you grow your online presence quickly and affordably, we manage your growth so you can have more time create engaging content for your users and manage your business more freely.
Instead of spending thousands of dollars on marketing campaigns and getting minimal results, buying Instagram engagements can be as cheap as ₹30 per post, save you time, and may provide you with the visibility you need to attract real visitors
To get a free trial and to know more about our Instagram TV Plans:
      Get Started
Tell us a little about yourself and we'll show you a lot more about us.
Schedule a 100% FREE Demo Today
---
[contact-form-7 id="453" title="Contact Us"]