How Often Should You Post to Instagram?
Organic reach continues to decline, and just like it's important to know when to post to beat the algorithm, it's also important to know how often should you be posting.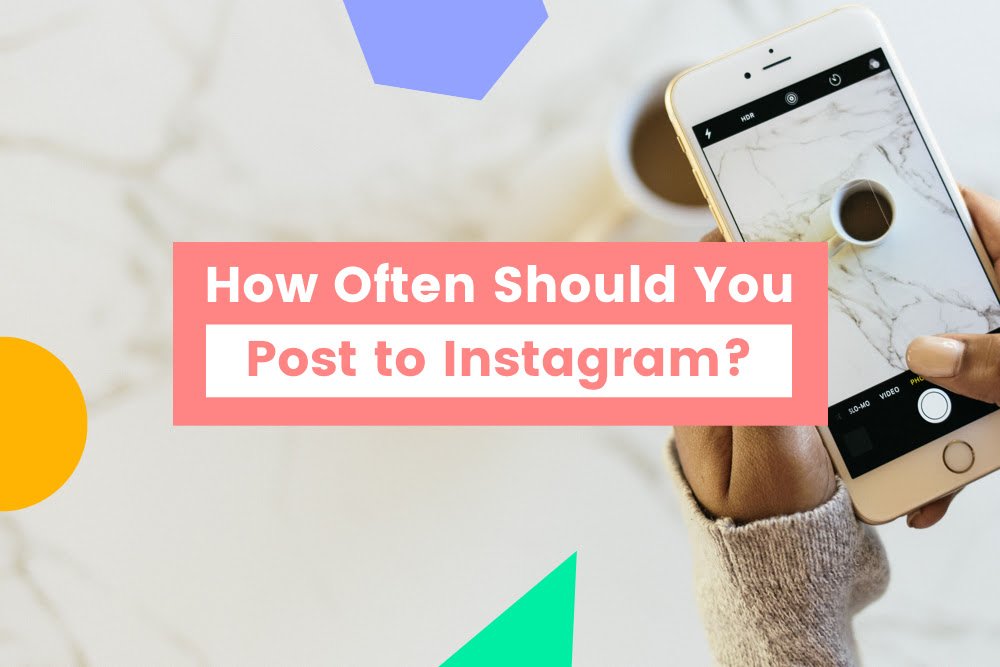 Whether it's twice a day or every 2 days, this post will help you understand the importance of posting frequency, its effect on engagement, and how it's been impacted by the new Instagram algorithm changes:
The Instagram algorithm continues to be a hot topic this year and a lot of users are wondering how it's affecting their posting schedule. You've probably noticed 3-day-old posts appearing on your feed and new likes popping up on photos you posted days ago.
Before the Instagram algorithm, the half-life of an Instagram post was 72 minutes, meaning it would get half of its total engagement within that time frame.
Although users have noticed a significant decline in their engagement and reach since the Instagram algorithm was introduced, posts DO seem to have a longer lifespan. So while your initial visibility might be decreasing, your post may still end up on your followers' feeds later on.
Does Higher Frequency Equal Higher Engagement?
We're now seeing more people posting up to six times a day, while some brands are even posting up to 30 times a day!
So is there a strategy that works better than the rest?
The short answer is no. But how often you post to Instagram will heavily depend on what your followers want and how much time you have to dedicate to your Instagram marketing strategy.
By posting more frequently, few brand's were able to ensure their followers are seeing at least a few of their posts each day. This allows the brand to reach a wider audience since their followers may be online at different times of the day.
However, this doesn't necessarily mean you should start posting 10 or more times a day! These Brands have cultivated an audience that's used to how often they post on Instagram and are excited to see new content more often.
Consistency Over Frequency
Your ideal posting frequency will depend on you or your business' goals and the amount of time you can dedicate to your Instagram marketing efforts.
Social media expert Neil Patel explains, "If you make a habit of posting several times a day and then transition to only a few times a week, you will start to lose followers and generate less engagement per post. This means that the best posting frequency for Instagram is the posting frequency that you can consistently maintain for the rest of your natural life."
This means that the best posting frequency for Instagram is the posting frequency that you or your business can keep up with consistently.
Posting More Often During Special Events or Promotions
As most Instagram users are selective and tailor down the list of accounts they follow, it's likely they won't mind seeing a few extra posts from you when there's something exciting to be shared!
Quality Over Quantity
While posting to Instagram more often may help grow your reach by increasing the likelihood that your content will be seen, if the quality of your content declines, so will your engagement and followers.
If you decide to post to Instagram more frequently, it's important you make sure you have enough time to dedicate to your efforts. It's important you never post for the sake of  posting.
Ask Your Followers
Another great way to figure out how frequently you should be posting is simply by asking! Add a poll to your Stories (the Instagram algorithm will reward you for this too!) and ask your followers if they would prefer to see more or less posts.
Recently, we've noticed a lot of bloggers asking their followers if they'd prefer more Instagram posts or Instagram Stories content. At the end of the day, your audience is most important, so make sure you're listening to what they want!
Stick to the Average
The average brand posts 1.5 times per day. This is a good rate for most businesses, especially those that have consistently stuck to this pace, letting current followers know what to expect after following your account. This is also a realistic goal for most businesses as creating multiple posts per day for Instagram could become quite time-consuming.
Optimizing Your Instagram Posting Strategy
Once you've decided what frequency works best for you and your followers, it's time to put your strategy into place!
When you go to the Explore tab in the Instagram app and type in a hashtag, the "Top Posts" area is the grid of 9 posts at the top.
While you don't have to have the biggest account to win the top spot, for hashtags with a higher number of results (like #handlettering), you are more likely to win a trending spot if your account is larger. While I have seen some really small accounts trend for a giant hashtag, it doesn't happen all that often. If you are sitting there with 600 followers, I wouldn't become obsessed with trying to trend for #handlettering.
Engagement is great, but quick engagement is even better. Trending posts generally take their position within the first 24 hours of posting, so you need it to happen fast.
We at Staiir Social Media Marketing can help you in reaching top section of #hashtags, by boosting your followers, Likes and comments on your posts so that it can reach on top of the Hashtag section instantly.
On a shoe string budget you can gain amazing engagement and potential followers .
      Get Started
Tell us a little about yourself and we'll show you a lot more about us.
Schedule a 100% FREE Demo Today
---
[contact-form-7 id="453" title="Contact Us"]