How to Create a Killer Instagram Bio in 2020
Writing your Instagram bio is hard! You want people to quickly understand what your business or profile is all about, but you also want to show off your personality and showcase your products, too.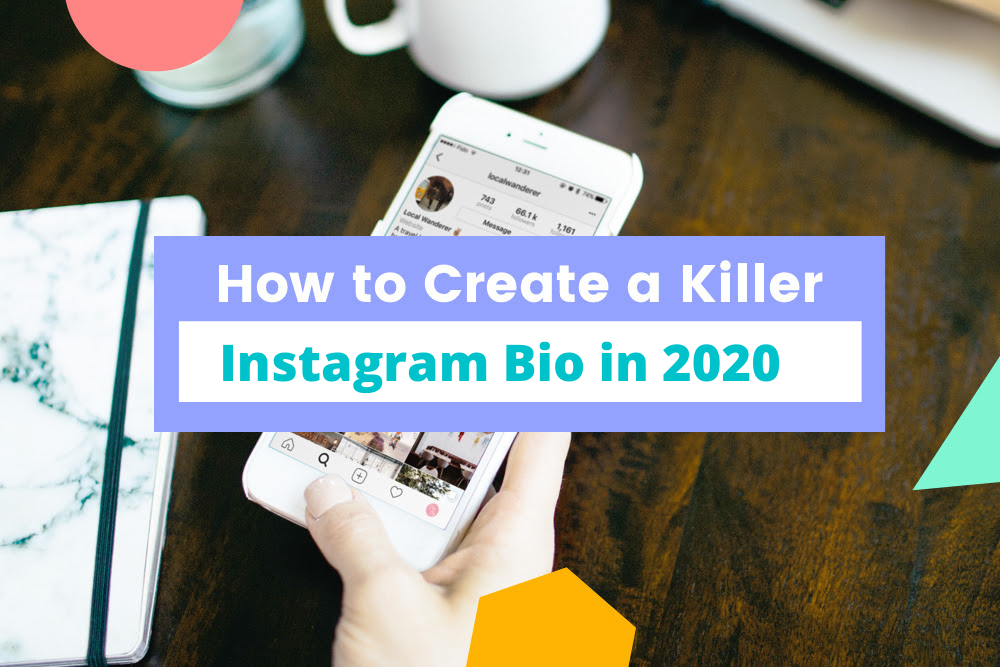 When was the last time you updated your Instagram bio?
Since your Instagram profile is the new homepage, having a good Instagram bio is more important than ever to help you attract new followers. 
Just like your goal is to convert visitors into customers with your website homepage, the goal of your Instagram profile should be to convert visitors into followers.
Ready to learn what it takes to create a killer Instagram bio in 2020? Check out the tips below!
1. Use Your Instagram Bio to Attract Your Ideal Audience
If you want to get new Instagram followers, they need to quickly understand what you're all about. A good Instagram bio explains what your business is and what you do.
If you want to stand out for a particular skill, profession, hobby, or interest, you should include these details in your Instagram bio.
A good example of this is The Wing's Instagram bio. The Wing keeps its Instagram bio copy direct and to the point, so even if you're a first time visitor, you'd know within moments that their account is for a co-working space for women.
But The Wing isn't trying to attract anyone who's female — only those who identify with their "we're a coven, not a sorority" credo. This is important, because with just a few lines of copy, The Wing is able to niche down to a very specific type of female audience, one that relates to its strong company culture and core values.
2. Add Clickable Links Within Your Instagram Bio to Mention Related Accounts + Share Your Brand's Hashtag
Prior to March 2018, your Instagram profile could only contain one clickable hyperlink — the URL at the bottom of your Instagram bio. However, after a recent update, any profile usernames or hashtags that you add into your Instagram bio will now become clickable links as well!
When you include a "#" or "@" in your bio, it automatically becomes a clickable link that will lead visitors to either a hashtag or another profile. That means you can use your personal Instagram bio to promote your Instagram business profile, or share where you work by mentioning your company's Instagram username!
If you're a larger brand, like @nike for example, you can also use this as an opportunity to link to your other branded accounts, such as @nikewomen.
Once you've added any applicable usernames, you can add in hashtags too! By adding hashtags into your Instagram bio, profile visitors are able to click directly through to view the respective content, so this is a great opportunity to share your brand hashtag.
3. Followers Count is a big turning factor for your audience
Having a good number of followers can help you a lot in turning people to follow you because they feel that you are popular and people like you or your brand. Having 10K+ followers also enable SWIPE UP feature in Instagram Story which can increase traffic towards your website as well.
Want to Increase followers ? Click on bottom left Whatsapp Icon to discuss with us.
4. Make it Simple for Profile Visitors to Contact You by Switching to an Instagram Business Profile
If you want your Instagram profile to be a one-stop-shop for new visitors, you'll want to make it easy for them to contact you or find your location! One of the best ways to do that is to switch to an Instagram business profile.
In addition to creating promoted posts and ads, adding links to Instagram Stories, and having access to Instagram's built-in analytics, switching to an Instagram business profile also gives you the ability to add key contact information directly to your Instagram bio!
Once these are set up, a profile visitor can easily click on any of these links in your Instagram bio and reach out to you directly via email or a phone call, or be given directions to your location.
5. Share Your Best Instagram Stories as Highlights On Your Instagram Bio
One of the biggest and most exciting recent additions to Instagram bios is Instagram Stories Highlights! Instagram Stories Highlights are permanent collections of your very best Instagram Stories that you can pin to the front of your Instagram profile.
They appear directly under your Instagram bio and play as a stand-alone story when someone taps on them. You can think of Instagram Stories Highlights like a movie trailer for your Instagram feed, and they're the perfect way to share the very best parts of your brand with new profile visitors.
If you're an online clothing store, you probably have a different page on your brand's website for tops, bottoms, dresses, accessories, and so on. You can use these same "pages" on your website as inspiration for what categories you want to create with your Instagram Stories Highlights!
As you can see, your Instagram bio is an extremely important part of attracting your ideal audience, driving more traffic to your products and services, and making more sales! And with so many more tools available, it's the perfect time to revisit your current Instagram bio and ensure you're making an amazing first impression with every new visitor. Contact us to know about our social media plans
      Get Started
Tell us a little about yourself and we'll show you a lot more about us.
Schedule a 100% FREE Demo Today
---
[contact-form-7 id="453" title="Contact Us"]