How to do an INSTAGRAM GIVEAWAY : Tips & Tricks
Wondering how to run an Instagram contest? Looking for Instagram giveaway ideas you can adapt?
In this article, you'll find tips and inspiration to help you plan a successful Instagram competition that supports your marketing goals.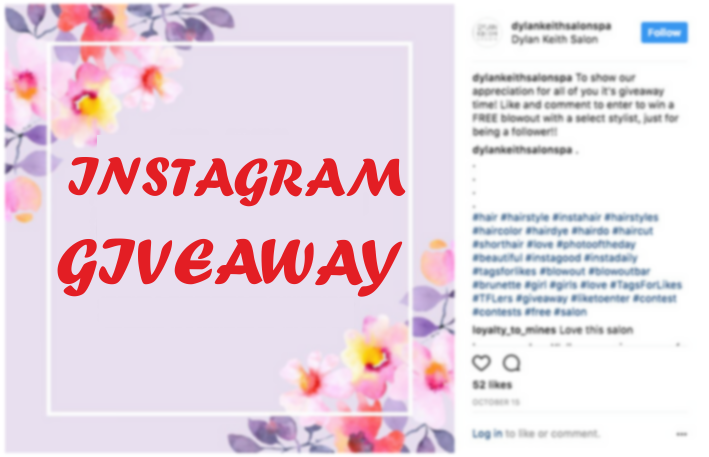 Everyone loves getting something for free. In fact, one of the main reasons that people "Like" a brands Facebook page is so that they can either obtain a discount or win something.
The rise of social media allows businesses to easily create their own contests and giveaways that can:
Build links to your website (great for SEO)
Increase traffic
Create social engagement
Increase followers
What Are Instagram's Rules for Contests?
When it comes to Instagram contests, a dominant rule to adhere to, and which most people are unaware of, is the statement of release. The following statement (or a similar one) MUST be included on all contest posts shared to Instagram:
Per Instagram rules, this promotion is in no way sponsored, administered, or associated with Instagram, Inc. By entering, entrants confirm that they are 13+ years of age, release Instagram of responsibility, and agree to Instagram's terms of use.
Be sure to insert this statement at the end of your Instagram contest caption.
Now that you know the restrictions and requirements for running a contest, here are the steps to take to run a contest on Instagram.
1. Decide on a goal for the giveaway
Hosting an Instagram giveaway is not only awesome for your followers, it can also be a huge benefit to you if you plan it right! By choosing a goal for your giveaway you can quickly and easily increase your:
∙  Instagram / Facebook / YouTube / Twitter Followers
∙  Likes & comments
∙  Email subscribers
∙  Blog readers
∙  Website visitors, etc
2. Pick a relevant prize
What's a giveaway without a prize?! Make sure the prize you choose is something your target market (or current audience) needs. The idea is that by choosing a prize that appeals to your target market, the more of those people you will attract.
Some people will go all out and give away a lavish prize and while that does attract people, it won't necessarily attract your target market, and it certainly won't create any customers. So don't go crazy – pick something reasonable and interesting to your ideal audience.
3. Define Contest Rules or Conditions
Going beyond the information listed in the previous section, do participants have to be a certain age or are there certain restrictions (like Indian residents only)?
Also decide how long the campaign will run, as well as the start date and end date. Will the campaign be 1 day, multiple days, 1 week, or 2 weeks? Numerous studies have shown that for large-scale campaigns, 1-2 weeks is the optimal length of time. If the requirements to enter involve participants sharing an image or other more time-consuming action, the campaign may need to run longer.
4. Launch Your Instagram Contest
In your contest post, you can communicate your contest or giveaway with text in the image or graphic. This way, it won't be dismissed as just another photo when people are scrolling through their Instagram feed.
Choose an image that's related to the theme/content of the campaign. In your contest post caption, include the terms of entry and legal disclaimers mentioned above.
5. Promote, Promote, Promote!
Simply creating a post for your Instagram giveaway may attract some entrants but if you really want it to reach the widest range of people you have to get serious about promotion! Here's a few things to consider:
Your post will not reach to bigger audience automatically. Engagement is the only key, you need to interact with users in your niche. But who would ever spend their whole day & night interacting with people?? Now here we come in. Our

Instagram Automation

 service will help you in reaching to 100,000+ users in a month, it will interact just like a human being would. This will give a double boost to your profile's followers, visits, impressions and reach.
Utilize Stories before, during, and after the contest to keep your audience aware and interested.
Share the giveaway to any other social platforms you're active on, such as your Facebook page or Twitter, and ask them to come to Instagram.
6. Evaluate Instagram Contest Results
Track the results of your contests to measure the participation, increase in followers, clicks to your website, and other criteria. You can begin to compare the data from each contest to determine which types of prizes, the times of the year, the content, and the types of participation that drive the best results for your business, based on your individual goals.
When the contest wraps up, I recommend that you edit your post caption to read "Contest CLOSED" at the very beginning of the post. This will ensure that users who see the post after the contest has expired won't attempt to participate.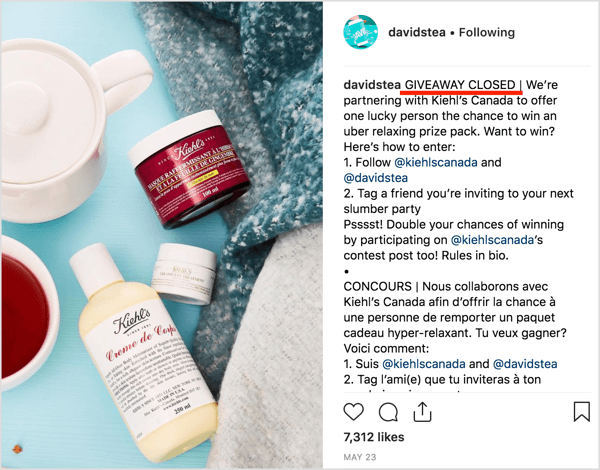 7. Choose a winner fair & square
Once a winner is selected, verify that they've followed all the rules and contact them to arrange delivery of their prize! Then you should announce the winner – if you fail to do this people may think that no one actually won and that can reflect poorly on you, so don't forget this step!
Our Automation Service can help you in reaching out people who have interacted with your giveaway post, and let them know the results. Everyone who have interacted on your giveaway post will receive a DM about the result.
Extra Tip

:
Stay away from loop giveaways
Loops giveaways are a popular method for quickly gaining followers on Instagram… but I don't suggest you use them! While they can gain you followers, the rate of unfollowing immediately after the giveaway ends, is VERY high!
So what are loop giveaways? Loop giveaways typically consist of several accounts (I've seen giveaways with 30+!) that team up to purchase a lavish prize (like a drone or designer purse). They then lead the giveaway entrants through a "loop" by having them follow each user, one after the other. This method is very time consuming and often the user doesn't even know how many accounts are in the loop, making it feel never-ending. In fact, plenty of users will actually quit part-way through the loop.
Once the giveaway commences, users find themselves following so many accounts that they don't actually have interest in, and end up unfollowing. So, like I said, it's a method to avoid if you value the time and sanity of your followers! The idea can be replicated on a much smaller scale if you wish, just make sure to stick to no more than three accounts to keep things simple for your audience.
Have you ever hosted an Instagram giveaway? How did it turn out?
Let me know in the comments!